You can update your store info through SETTINGS option in the Vendor Dashboard menu. You can update your store appearance, store info, provide store-wide discounts, update vacation settings, update your bank details for payouts, upload verification documents, set your social profiles and update your store SEO parameters.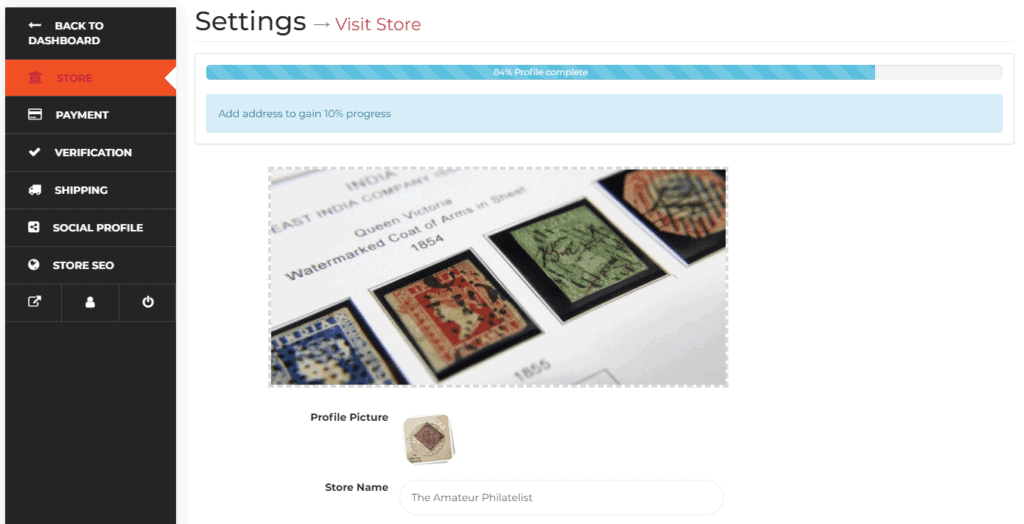 Updating Store Info
To provide your store a visual feel, you should update your store banner and profile picture. Additionally you can also provide store-wide discounts and update vacation settings amongst other things.
Update Store Banner and Profile Pic
Select STORE from the left menu to update your store info.
Select STORE in left menu to update your store banner and profile pic. Click Save Settings at the bottom of the page to update your settings.
Go on Vacation
In case you are going to be away, you can let customers know that they should expect a delay in their shipments. Check Go to Vacation checkbox and set your vacation message.
Set Store Discounts
In case you want to offer a discount on your store, you can check Enable storewide discount. This discount will be applicable to customers of your products only. You can set a discount of your defined percentage based on minimum order amount. In case you want to offer a percentage discount of all your items, enter 0 in minimum order amount.
Updating your Bank Account Details
Update your bank details in the PAYMENT option on the left menu. These details are used to make payouts to you for your sales.
In the Routing number field, enter IFSC code for your bank. You can leave the IBAN and Swift code fields blank.