You can access your seller dashboard by clicking Vendor Dashboard in the My Account menu.
On mobile, you can access your seller dashboard by tapping on My Account button at bottom and then scrolling down and tapping GO TO VENDOR DASHBOARD button.
The Vendor/Seller Dashboard provides you a summary of your orders and products. The dashboard also provides with all the options to manage your store, your products, and orders.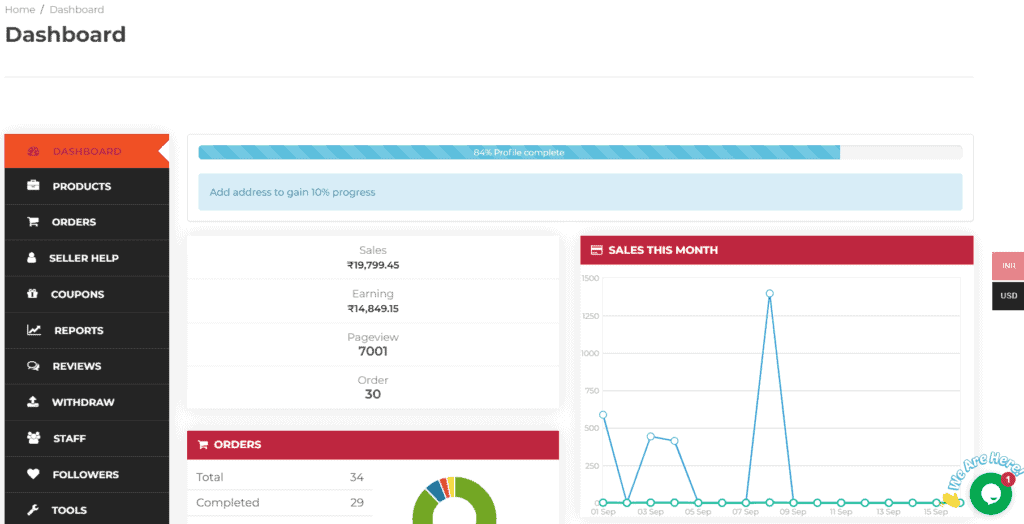 On the mobile, use this option to access the Seller dashboard menu:
Here are the menu options available for you from your dashboard. Click on the options to know more.
| | |
| --- | --- |
| DASHBOARD | Displays a summary of your sales, products and shop views. |
| PRODUCTS | To add/delete/modify products |
| ORDERS | Manage your orders here |
| SELLER HELP | Learn how to manage your store on BidCurios |
| COUPONS | Set up your store coupons and discounts. These are applicable only to your products. |
| REPORTS | Sales and inventory reports |
| REVIEWS | All your product reviews will appear here |
| WITHDRAW | Not applicable |
| STAFF | In case you want to add additional members to manage your store, add and manage them here |
| FOLLOWERS | Information about your store followers here |
| TOOLS | Import and export your products from/to XML or CSV |
| AUCTION | Add and manage your auction products here |
| SUPPORT | Any support issues raised by customers will appear here for you to respond to |
| SETTINGS | Manage your store appearance, your bank details, upload verification documents, set your shipping policy, update your social profiles and manage your store SEO parameters |
When you visit your dashboard the first time, you may see an error message. This message will go away once your Seller account has been approved and activated. Once this message has been removed, you can list your products.
Error! Your account will be enabled for selling in 1 to 2 business days. Please contact BidCurios if it is more than 2 business days since you submitted your documents.