Go to your Seller Dashboard. Select the Seller Dashboard menu:
Select Products from the Seller Dashboard Menu.
Select Add Products.
To add a new product, click on Products from the left menu in vendor dashboard and then select Add New Products button from the top right corner. This will open a new window where you will be able to create a new product very easily with providing the most important details only.
Basic Product Info
The basic information about a product are the product name, price, short description and product image. Discount price is optional. You can even schedule discounts for a certain amount of time. You can enter a starting date and end date to apply automatic discounts to your product.
Price listed by you is inclusive of GST.
Add Category and Tags
By default, category selection is singular. That is why there is a drop-down field to select a category. This should be the standard setting because according to Google Webmaster Guidelines and other SEO and UX best practices, it is recommended to have only one category assigned to a product. If you need to show your products based on multiple factors or for searching or sorting feature, you can use tags.
Contact Admin in case you want to add more categories and tags.
After you have added a product with basic details, you can now complete the product listing based on your specific requirements.
The new products will show Pending Review. Products will be approved within 1 business day if they match the theme of the website.
Click on the product name or Edit link under the product name to edit the product.
Adding product details
Don't forget to add additional product details. Adding product details provides more information to buyers and helps you manage your products better.
| | |
| --- | --- |
| Description | This is the details description that is visible in the table below the product. You can add detailed product description in this field. |
| SKU | Add your product identification code for this product here. |
| Stock Status | Update whether the product is in stock |
| Enable product stock management | It is recommended that you use this for all your physical products. This allows the website to manage your product inventory. Each time there is a sale, the product inventory will be reduced by one. It is very important to manage your inventory like this because if you have only one product, then this eliminates the chance of customers ordering out of stock products. |
| Stock quantity | How many items of this product are available for sale. |
Shipping Classes
Select the correct shipping class for your product. BidCurios offers combined shipping to customers by default. The highest shipping class of products selected will be chosen for shipping fee charged to the buyers.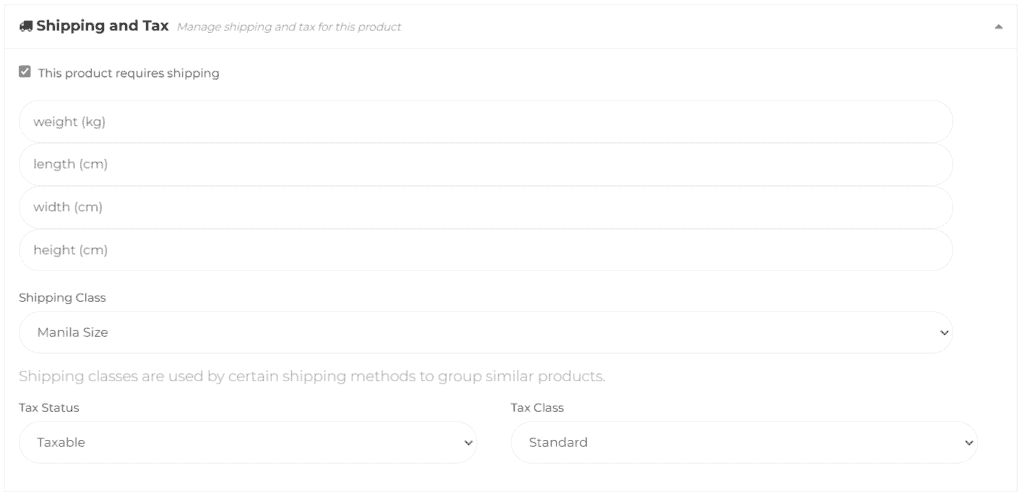 Following shipping classes will be used, and their shipping cost.
| | | | |
| --- | --- | --- | --- |
| | | India Shipping Costs | International Shipping Costs |
| Free shipping | In case you want to offer free shipping for your products | -Nil- | -Nil- |
| Letter Size | Typically for letter-sized packets for stamps, minisheets, bank notes etc. Speed Post shipping expected in India. Registered Post shipping required for international. | Rs. 60 | 260 |
| Manila Size | Typically for covers etc. Speed Post shipping expected in India. Registered Post shipping required for international. | Rs. 70 | 500 |
| Large Size | Typically for coins or albums etc. Speed Post or Registered Parcel Post shipping expected. Registered Post shipping required for international. | Rs. 100 | 1000 |
| Heavy Items | Registered Parcel Post shipping or courier expected | Rs. 250 | 2000 |
| Bulky Items | Registered Parcel Post shipping or courier expected | Rs. 500 | 3000 |
| Insured Shipping | Typically for high value items like paintings or coins. Recommended for items more than Rs. 20,000 in value. | 5% of sale value | TBD |
You cannot have separate shipping classes for India and International shipping. The same shipping class will be applicable, with different rates for India and International.
Tax Classes
Tax Status should be set to Taxable for all products.
Tax Class should be set as per the GST applicable for your product. For stamps, coins and paper products, leave the tax class as Standard (5%). For Art, the Tax Class should be set to GST12 (12% GST). For most other products, set the Tax Class to GST12.
Bulk Upload Products
To bulk upload products, you need to Import them. Select Tools from your Vendor Dashboard left menu and select Import. You can import from CSV or XML file.
Save Your Product Listing